Outstanding In Their Field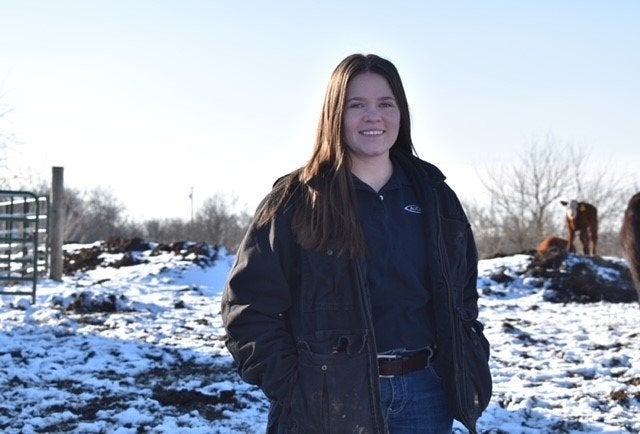 Randa Morris- Loan Officer, Danville Branch
Where are you from? I grew up in and still reside in Lancaster, Ky. I'm very thankful to call Garrard County home, but I have a lot of family in Madison County and spend a lot of time there as well.
Did you grow up on a farm? I grew up on my grandparents' farm. Before I came along they ran a dairy and raised tobacco. They raised their last tobacco crop when I was little, and since then it's been a cattle farm, which is a big reason why I have shown cattle since I was in fifth grade. I'm very thankful that we are still able to raise livestock on that same farm, and that I've been able to become much more involved in the operation in recent years.
Where did you go to college? I graduated with my Bachelor's from Eastern Kentucky University in 2020 with focuses in Agribusiness Management and Animal Science, and a minor in Banking & Financial Services. While in college I was a member of Agriculture Club, Finance Society, the CSBS Case Study Team, and National Delta Tau Alpha Ag Honor Society. As a Delta Tau Alpha member I served as the National Secretary and National President.
Were you involved with any clubs or teams growing up? Due to showing cattle, I was very involved in 4H Livestock Club growing up, and in high school I was further involved with FFA, Future Business Leaders of America, Fellowship of Christian Athletes, and other clubs. My junior and senior years I was Vice President of FFA and President of FBLA. I played softball and basketball almost year round from when I was a kid to when I graduated, and I picked up volleyball as a freshmen in high school.
Interesting facts about yourself: I wouldn't say there are many interesting facts, but I very rarely miss an episode of Jeopardy!
Favorite part of being an Ag Credit Loan Officer: I love getting to see the different types of operations our customers have. As I mentioned, I mostly grew up around cattle and a few different types of livestock, so I enjoy learning about different crops, methods, etc. Agriculture and farming is different for everyone. It is fun to see how Ag Credit helps people reach their goals, whatever those goals may be. It is even better to do that alongside coworkers who want to see you and your customers succeed.
« See all News