Outstanding in Their Field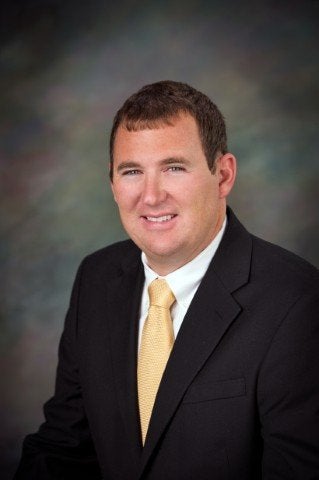 By Richard Medley
Where are you from? 
I am from Springfield, Ky. We live just outside of Springfield in the St. Rose Community. My wife, Mollie, and I are both originally from Springfield and decided to both come back home after college.
Did you grow up on a farm? 
I grew up living on my Grandfather's 150 acre cattle farm. From an early age I remember going out and riding the tractor fender with him to check cattle and fix fences. He taught me a strong work ethic at an early age and cultivated my passion for farming and agriculture. I was fortunate enough to be able to purchase 70 acres of his farm when I graduated college which is my homestead and home base of farm operations. Our current farm operation consists of a feeder cattle operation of 350 head in mostly a grazing program.
Where did you go to college?
I attended the University of Kentucky College of Agriculture. I graduated with a Bachelor's degree in Plant and Soil Science with a minor in Agriculture Economics. Through college I was able to work on the University's farm which was right at home for a country boy in the big city.
Were you involved with any clubs or teams growing up?
In high school I was actively involved in FFA. I served as the chapter reporter and vice president. The organization served me very well in teaching me leadership skills that I still apply to this day. Through the organization I made many friends from around the state that I still communicate with. I was fortunate enough to be in the FFA history books as being the first ever Kentucky "State Star in Agricultural Placement." I was also able to be a state winner and national finalist in a forage proficiency contest at the National FFA convention. In college I was involved in the fraternity of Alpha Gamma Rho and served as the chapter secretary for 2 years. I also was involved in the University of Kentucky Agribusiness Club through college.
Interesting facts about yourself:
I believe in working hard and playing hard. I believe that one needs to work hard but also take time to enjoy life and family. When not at AgCredit or on the farm, most Sunday's you can find me enjoying my favorite past time at the lake out on my boat.
Are you a member of any committees, groups or boards?
I am Director for Washington County Farm Bureau, a Washington County Planning Commissioner, and Washington County Cattlemen's member. I have completed two leadership programs since graduating college, the Kentucky Cattlemen's Leadership program and Kentucky Agricultural Leadership Program. These programs helped me to hone my leadership skills and allowed me to travel the state, the country, and the world with an excellent group of people that I call my friends.
Favorite part of being an Ag Credit loan officer:
My favorite part of being an Ag Credit Loan Officer is serving the agricultural community. Farmers are inherently some of the very best people to work with and I enjoy being able to help them accomplish their dreams. I am an active farmer, so seeing first hand the impact we make is very rewarding. Mark Twain said it best "find a job you enjoy doing, and you will never have to work a day in your life"- this definitely applies to me and working with Ag Credit.
« See all News