Olive Hill Sporthorses: A Dream Decades in the Making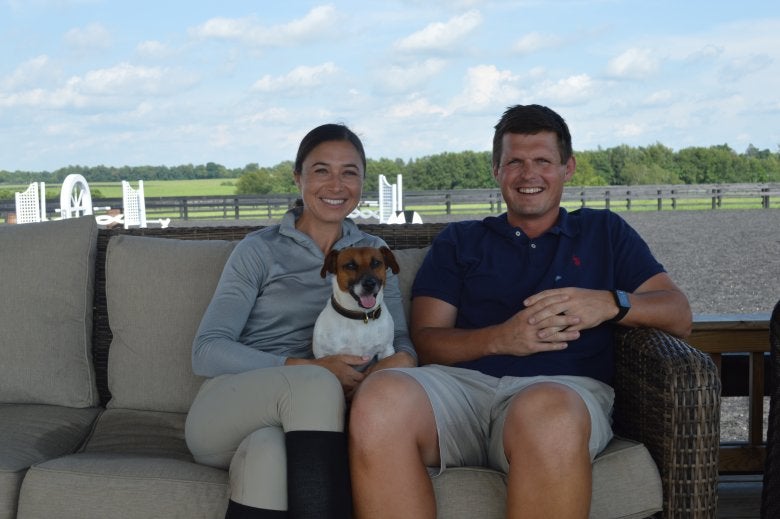 In a breathtaking display, the tree-lined lane through Olive Hill Sporthorses in Lexington, Ky., winds through perfectly manicured grounds and leads to a picturesque barn.
If that sounds like driving through a dream, that's because it is – a dream decades in the making.
Owner Diana Conlon has been riding horses since she could walk. Although she was born in California, Diana grew up in Lexington and realized quickly that there was no place she'd rather be than in the horse capital of the world.
She spent her teenage years competing in equine events all over the country as her love for horses and teaching others grew deeper. Juggling classes at the University of Kentucky and working with hunter jumpers didn't leave her much free time, but Diana threw another element into the mix when she met her future husband, Brian, in college.
Brian grew up in central Kentucky, and his family raised cattle and grew tobacco. Diana's love for horses was contagious however, and today, Brian is a facility manager for a horse farm in Versailles.
After graduation, Diana and Brian got married and began a life together in Lexington. Before long, the Conlons had the opportunity to take over a program at a place where she rented a facility. As they grew the business, which focuses on hunter jumpers and training horses and riders, Diana and Brian decided that it was time to stop renting facilities and get a place of their own to grow Olive Hill Sporthorses. They soon found a beautiful piece of property on the north side of Fayette County. "The land only had a red two-stall barn and some fence," explained Brian.
But the couple had a vision for more, and they knew just who to turn to help make their dream a reality.
The Conlons had worked with Ag Credit when they took out a loan through Farm Credit EXPRESS, the company's equipment dealer financing program. They enjoyed working with Russell Gray, vice president of credit.
"We spoke the same language and it was easier for Ag Credit to understand our goals for our operation," Brian said. "Whenever I had a question, I could call Russell and didn't have to go through several people. It was very easy to know what we were getting and the timeline. We're thankful for being able to do business with Ag Credit; it couldn't have been done without their help and assistance. We've had a great relationship, and I am sure it will continue."
Diana was thankful that they finally had the land to build their own operation. "It was a blessing," she said.
They started working on building a barn and indoor arena in the spring of 2017. "The summer of 2017 was very dry, and Country Construction was able to build the barn quickly. We moved into the barn by Labor Day," Brian said. The young couple also added fencing and an outdoor arena and created the scene that captivates visitors today.
The Conlons make a good team as they work together to develop their dreams. Diana does a lot of the day-to-day chores and management. She is there to help with lessons and loves being around and developing the horses. Brian is focused on pasture management and making sure things get taken care of around the farm. There are also four staff members who help make the operation successful. "Everyone is very driven that works here, but we want to keep it relaxed and fun as well," Diana explained.
Olive Hill offers several different options for riders with the goal of matching the potential of the rider with the right horse while also making sure customers have fun riding. "There are riders of all ages here, and each one has a different goal in mind," explained Diana. "We have a variety of different horses and riders." Training programs range from beginner to grand prix, and they travel around the country and show at all levels. Olive Hill has clients who show their own horses and also horses that
Diana will show for her clients. In addition to the core business, they also have chickens and two heifers on the farm. Diana still enjoys riding and being able to coach others on how to do the same. "I love riding and was lucky enough to be good enough at it and to make it a career," Diana said. "There are no days off; it is all about the horses for us."
"It's a lifestyle," Brian added. "People say that about several things in life, but it is very true for farming. It's the love for the environment, the lessons people learn – both indirect and direct."
Diana's advice to those who are interested in starting their own sporthorse business: "The harder you work, the luckier you are; you can't be afraid to get your hands dirty. It's important to gain knowledge of all parts of the business."
Education is a key to success, Brian added. "There are a lot of learning opportunities," he said. "Take advantage of everything you can."
« See all News