Farm Credit EXPRESS Dealer Spotlight - Lawson Tractor & Implement
Lawson Tractor & Implement has two locations, one in Lebanon and the other in Danville.
In 1980, Randall Lawson stepped into Dougherty Equipment in Lebanon, KY to buy a manure spreader for his dairy farm. After many hours of negotiation, Randall made an offer to buy the entire business. Now after 29 years, Lawson Tractor has become a successful farm machinery business in Central Kentucky.
Over the last several years, Lawson's has expanded their business to reach the area of Danville and beyond. Randall's son, Terry, is now managing and can help you with the parts and service you need for your machinery. They are a proud dealer of New Holland and Kubota Tractors and equipment, and also carry many other lines of attachments and equipment.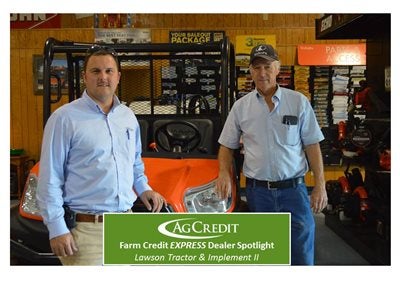 Pictured Above: Tom Zack Evans (Ag Credit) with Ron Spalding (Lawson Tractor & Implement II)
Lawson Tractor & Implement Contact Information:
                           846 W Main Street                                 6829 US Highway 127
                           Lebanon, KY 40033                                   Stanford, KY 40484
                              270-692-2169                                               859-854-3500
Central Kentucky Ag Credit partners with several participating equipment dealerships to provide you with flexible terms, competitive rates and the convenience you're looking for when financing your new or used equipment purchase. Ask your local equipment dealer about EXPRESS financing. EXPRESS loans are still served by local Ag Credit staff and also receive patronage!
« See all News