Customers Helping the Community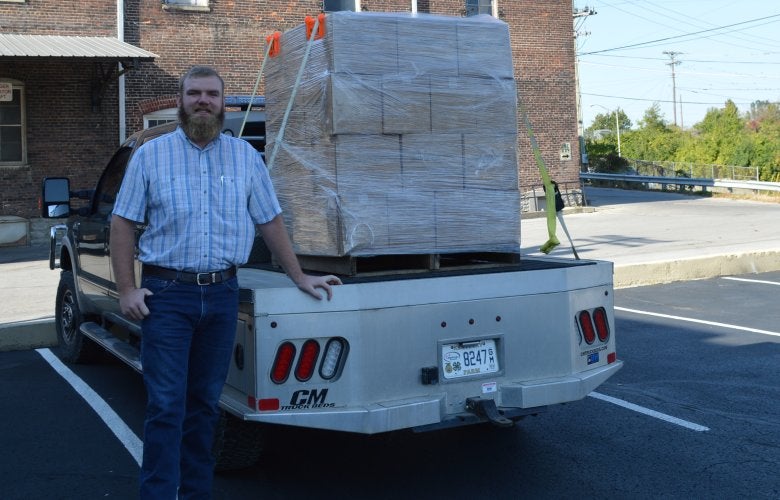 Castle and Key distillery was founded in 2014 and is located in the Old Taylor Distillery in Frankfort, Kentucky. Amidst the current pandemic, Castle and Key decided to start manufacturing and bottling FDA-approved hand sanitizer for customers to purchase. They also developed the hand sanitizer initiative which targets essential businesses and organizations to receive free bottles of hand sanitizer. For every bottle purchased, one bottle is donated, and as of October 2, 2020, 10,624 bottles have been donated to the local community.
Charlie Crume is a maintenance engineering manager at Castle and Key Distillery, and was put in charge of distributing some of the donated hand sanitizer. Mr. Crume grew up on a 600 acre farm in Bloomfield, Kentucky where he played a major role in his father's farming operation. He is now growing his own farming operation on 37 acres in Salvisa, Kentucky that Ag Credit has helped finance. Through his Loan Officer, Lisa Yeager, Charlie wanted to help fellow Ag Credit customer owners receive the donations of hand sanitizer from Castle and Key. "We were happy to be an intermediary for these donations," says Lisa. "This is a great way for a local business to give back to the community." Castle and Key already distributed donated hand sanitizer to local bars, restaurants, and first responders in the community. Charlie wanted to think outside of the box and provide Ag Businesses with this resource.
Ag Credit is happy to assist small agricultural businesses in obtaining personal protective equipment such as hand-sanitizer in these uncertain times. If you belong to an essential business or organization and would like to inquire about donations or corporate bulk sales, contact your local Ag Credit office or Castle and Key Distillery through their website.
www.castleandkey.com/pages/hand-sanitizer  
« See all News