Building Dreams and Fences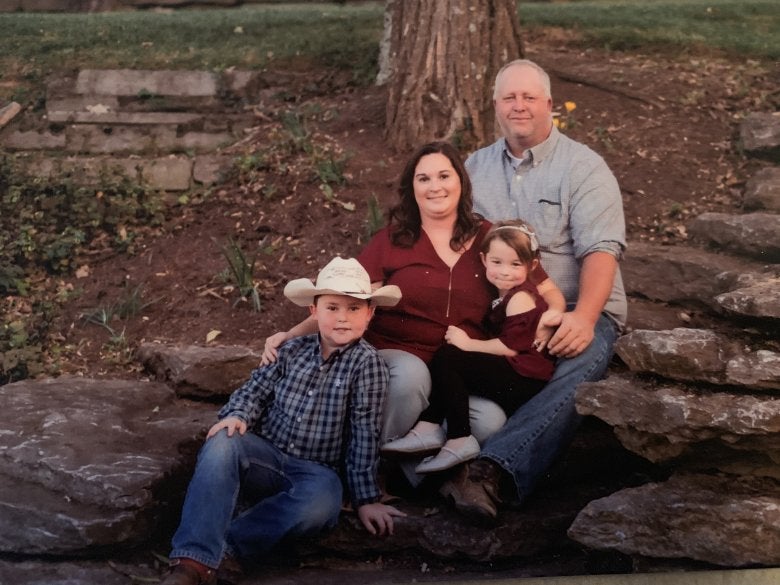 For as long as he can remember, David Cartinhour wanted to be a farmer. Growing up on the family farm, David grew to love the cadence of rural life as he and his dad, Bill, tended the land, coaxing a living from the rich Central Kentucky soil.
Although Bill jokingly apologized to his son for getting him involved in farming, pointing to the hard work and uncertain financial prospects, David developed a strong commitment to the family business and knew by age 18 that he'd never be content with an office job.
When he graduated high school in 1994, David began working for Walter Major, a farmer in Lawrenceburg.
A few years later in 2002, David became partners with Walter in his livestock operation. Then, David started a part-time fencing business. It was at about that time that David began courting Amanda, a kindergarten teacher with Anderson County Schools, who also hails from a farming background.
If all that wasn't enough, David also began managing another 150-acre property that the Cartinhours dreamed they could one day make their own. David and Amanda married in 2010, and thanks to a lot of hard work, patience and a little luck, that dream became a reality. The couple recently bought the property and is planning to build a home on it.
Today, the Cartinhours' cattle operation consists of nearly 200 cow-calf pairs, and they sell 60 bred heifers every fall during the elite heifer sale in Paris. They also background their steers.
In addition, David's fencing company has proven to be successful. Today, Cartinhour Fencing is a fulltime endeavor with five employees crisscrossing the Central Kentucky region erecting farm and residential fencing. "When we first started in 2002 with the fencing business, I never thought it would become what it is today," David said.
The Cartinhours have no regrets when they consider their choice of a country lifestyle, and they're especially glad that their children, Landen, 9, and Raylee, 5, are growing up in much the same way they did. Amanda said both children love to help their parents on the farm, and David and Landen are members of the Anderson County and Kentucky Cattlemen's Association.
Both youngsters compete in the junior rodeo. Landen and his horse, Meatball, participate in barrel racing, pole bending and goat tying. The family travels around Kentucky and Southern Indiana to rodeo competitions throughout the year. "
I love that we're able to raise our children this way," Amanda said. "They get to learn responsibility, respect and the value of hard work. And they get to see how much hard work David does to provide for our family."
David and Amanda recently became memberborrowers of Central Kentucky Ag Credit.
"The Cartinhours are a well-respected farm family," said Jeff Zinner, Frankfort Ag Credit Loan Officer. "They're effective leaders in all facets of life, whether it be their church, school, business or farm communities. It's always enjoyable to serve a family who works so hard to do things the right way.
« See all News