AgStart Works for Kernodle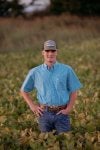 Caleb Kernodle is the son of Rob and Rebecca Kernodle. He takes great pride in talking about the legacy of his family's farm. The farm has been in his mom's side of the family for three generations with Caleb being a part of the fourth generation. It was started by his great-grandfather in the 1930's, during the Great Depression. Over the years the farm grew and is now 2,700 acres. They run around 4,000 feeder calves and a 1,000 acres goes into row crops. Caleb is also growing his operation by raising purebred Hereford cattle. His goal is to produce high quality seed-stock that will allow him to sell show heifers, herd sires and embryos.
 
You may also recognize Caleb Kernodle's name from his work in getting supplies donated for the tornado relief efforts for Mayfield and surrounding areas. Caleb took the lead and started gathering supplies. The Kentucky Junior Cattlemen's Association and Tarter Farm & Ranch quickly joined in the cause and $10,000 worth of supplies were gathered for the farmers in the area hit by the tornadoes. When he is not donating his time or working on the farm you will probably see him trucking cattle or at an auction. 

Caleb's interest in auctioneering also has its roots in a family legacy. For 55-years Caleb's grandfather, Bruce Helm, ran a real-estate auction company. Being exposed to the auctioneering side of the company really intrigued Caleb. John Helm, Caleb's uncle, was an auctioneer in the family business. Growing up Caleb would listen to him and would pick his brain on how to build his own chant. After attending the Missouri Auction School he was able to improve his chant and start his journey as an auctioneer. You may have heard Caleb at the Kentucky Beef Expo Hereford Sale in Louisville, Kentucky Cattlemen's Banquet, Kentucky Farm Bureau Women's Committee Benefit Auction, Jessamine County FFA Chili Supper Benefit Auction or the Boyle County Investment Youth Sale. 
Caleb's interest in trucking began almost as soon as he was able to drive and pull a trailer. He started small, helping neighbors haul their livestock. As time progressed Caleb was approached and asked if he would consider being for hire to haul more than just the neighbors stock. At that point Caleb knew he was going to need to upgrade his trailer and truck, so he turned to Brad Godbey at Central Kentucky Ag Credit. 

Caleb appreciated the quick turnaround and open communication that he had with Brad and the loan assistants. "Because of my first time experience of how easy it was to fill out the paper work, the willingness of Brad and the office staff to work with me, I was really satisfied with the whole process. That is why I have continued to go back to them when I need a loan," Caleb said.  
"It is always a pleasure to watch young farmers come in and ask us to help them reach their goals. Caleb has big goals and dreams. He has a great work ethic and is going to be successful in anything he puts his mind to. I look forward to watching him grow and develop his business as an auctioneer and a young farmer," said Brad Godbey, Caleb's Loan Officer. Central Kentucky Ag Credit takes great pride in our ability to work with young, beginning or small farmers through our AgStart program. If you would like to know more about the options available through AgStart be sure to visit our website or ask a loan officer at any of our seven offices. 
 
« See all News