Ag Credit Donates Meat to Local Organizations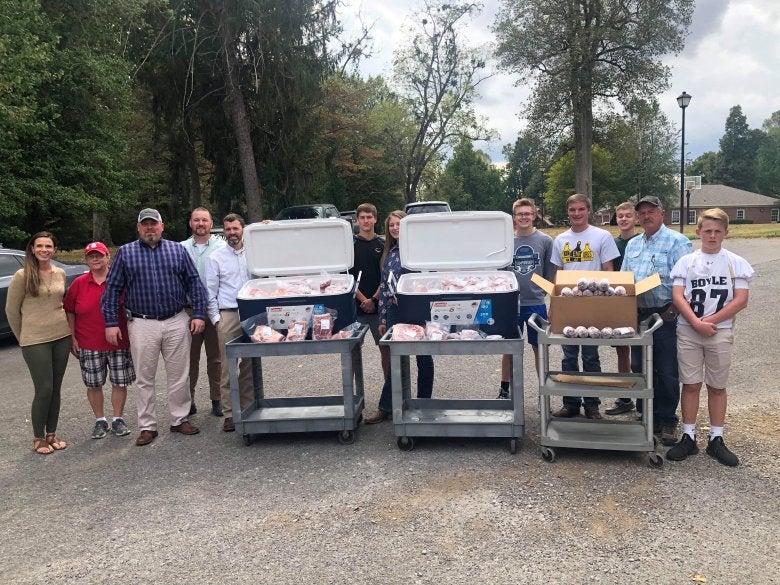 After the Boyle and Mercer Counties 4-H and FFA Investment in Youth Livestock Auctions, Ag Credit organized the donation of the meat from the livestock projects to local non-profits.
Boyle County
Central Kentucky Ag Credit partnered with Caverndale Farms, Pro Ag Sales & Services and Erie Insurance in purchasing 4-H and FFA livestock from the Boyle County Fair Investment in Youth Livestock Auction.
The purchased hog was raised and shown by Samuel Wade (12), son of Mark and Stephanie Wade. Weighing nearly 250 pounds, the animal sold for $11/pound, bringing in over $2,700.
The hog was USDA processed by Boone's Abattoir and donated to Sunrise Children Services—a Danvillebased non-profit providing foster care, residential housing, therapeutic treatment and other related services to children and families in need.
A second hog, raised and shown by Colton Fitzpatrick, was purchased by Friends of Boyle County. This animal was also processed and donated to Sunrise, resulting in nearly 500 pounds of pork donated by local community partners.
Boyle County youth helped fill the freezers after the meat was presented to Ramona Milburn, Food Service Manager, Sunrise Children Services.
"The investment in youth livestock sale allows us to not only reward the children and their hardwork in 4-H, but also impact the local community," explained Brad Godbey, Ag Credit senior loan officer. "Through the livestock sale, we were able to reward a youth participant, while also impacting Sunrise Children Services, by being able to donate the meat. This provides a financial benefit to the home and the children that stay there. It is truly a win-win for everyone involved."
Ag Credit also partnered on three lambs, which earned the youth participants over $7,000.
Mercer County 
Central Kentucky Ag Credit has donated meat purchased at the Mercer County 4-H and FFA Youth Investment Livestock Sale to the Harrodsburg United Methodist Church. The hog was raised and shown by Alexis Jones, daughter of Mike and Debbie Jones. Weighing 240 pounds, the animal sold for more than $9/pound, raising a total of $2,250. "The livestock industry is a passion of mine and showing takes a big part of that and with showing Ag Credit is big supporter of mine, and not only mine, but other individuals as well," said Alexis Jones. "Livestock and showing is an industry I'm thankful for and appreciate!"
The hog was USDA processed by Boone's Abattoir and donated to Harrodsburg United Methodist Church, who utilizes the meat in their monthly community feeding program. The monthly meal serves 175-200 people in Mercer County and started 10 years ago. "We started this program to help feed our community, but we have gotten so much more from it," said Rhonda Peavler with the Harrodsburg United Methodist Church. "We are blessed to help with this program and our community."
"This is a great program where the next generation is introduced to hands-on livestock care, while learning translatable life skills such as accountability, self-discipline, cooperation and perseverance," Beth Mobley, Ag Credit loan officer explained. "These kids' hard work continues beyond the show ring as the animals they raise are processed and donated to local organizations, which then utilize the meat to help feed community members in need."
« See all News