We Want You to Know - "Important Information"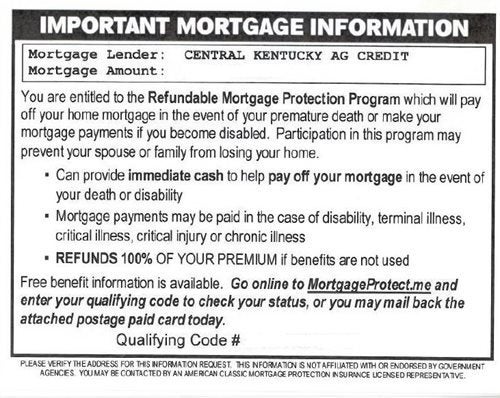 Ag Credit is committed to protecting our customer's personal and financial information. We have become aware of attempts to market financial products in our name. A postcard has been circulating that offers IMPORTANT MORTGAGE INFORMATION and asks you go to certain web sites and enter information.
Ag Credit is in no way related to the offer of a "Refundable Mortgage Protection Program".
Mortgage records are public records in county courthouses and are generally available.  These records show information related to the mortgage transaction and can be used for many purposes.
Carry a healthy dose of skepticism with any contact from anyone that you don't know and didn't initiate.  A big red flag should be if you are asked to provide ANY information to someone contacting you.  This can as simple as your name, phone number, address and of course any account numbers, PIN numbers, Social Security numbers that are supposedly necessary to "verify" something.
Verify information with someone you know and can trust at Ag Credit. It can be as simple as picking up the phone.  You will get a person who can answer any questions about services, offers or opportunities at Ag Credit. You'll like the way we do business.  
To see a list of common scams to be on the lookout for, visit the official website at https://www.usa.gov/common-scams-frauds .   Another online place to visit is Scam Alert page of the Federal Trade Commission site at https://www.consumer.ftc.gov/scam-alerts  
« See all News