For the Love of Horses: Punchestown Stables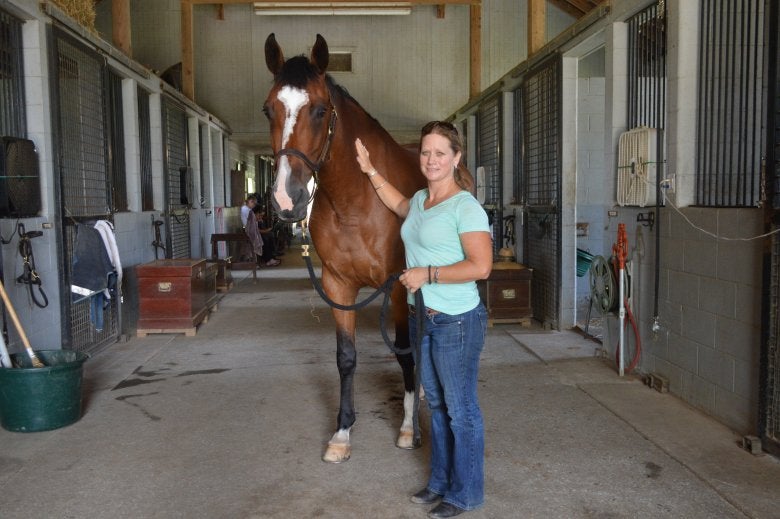 When Sarah Meier climbed onto her first horse in 1985 at age 7, she began a slow trot toward her future in the equine industry.
More than 30 years later, Sarah is stoking a passion for horses in riders of all ages and experience levels as owner of Punchestown Stables in Lexington. The operation offers boarding, sales and lessons to customers, as well as a summer camp to help locals learn about riding and caring for the majestic creatures.
Originally from Wisconsin, Sarah grew up competing in the Hunter and Equitation divisions on the AA circuit in the junior category. While competing across the country, she grew to love Central Kentucky. In 1996, she relocated to Lexington to attend the University of Kentucky. Soon, she found herself dreaming about being back on the farm and she left the university to pursue her passion for riding.
Starting out, she freelanced for various sport horse trainers. Anywhere there was work, Sarah was there. She worked for a number of local farms, particularly in Versailles, and also worked at the race track. "I always wanted to come back to sport horses but learned a lot from (the) race track," Sarah explained. She still uses many of those lessons today when training horses.
In 2002, Sarah was ready to step out on her own and realize her dreams to their fullest.
"I always wanted to own a horse business," she said. She worked with Ag Credit to purchase the land and barn and started small with just a few horses. Through her hard work and perseverance, Punchestown has grown into a thriving business over the past 17 years.
During that time, Sarah has worked with AgCredit to update the outdoor arena, build the indoor arena and construct more stalls. "The working capital loans helped me get through big purchases such as the recent watering system we installed. All of those things have made this farm what it is and that has been very helpful," Sarah said.
Punchestown has eight lesson horses on the farm, ranging from ponies for beginners to older horses. All are show-quality. Having both an outdoor and indoor arena allows Punchestown to offer lessons year round, regardless of the weather. The business offers lessons to riders of any age, from young kids to older adults who want to ride for the first time.
Summer camps for both beginning and advanced riders are offered for those interested in learning more. Beginner rider camp teaches campers with little to no experience basic horsemanship skills such as grooming, tacking, bandaging and riding. The advanced camp is for riders who can walk, trot and canter with confidence. The camp teaches more advanced riding skills, and campers compete at a local show at the end of camp.
In addition to riding lessons, Punchestown has 32 stalls available for boarding horses. Each 12-by-12-foot stall has rubber mats, with optimal ventilation and natural light.
The business offers a number of amenities for riders and their horses. All boarders participate in lessons and have the option of competing at local and national shows, as well as traveling to at least one rated horse show each week.
Sarah relies on Alex Nelson, her business partner who has been working at Punchestown for eight years. Alex is the assistant trainer and lesson program coordinator. Carolyn Meng also works at the horse farm as Sarah's assistant. Carolyn takes kids to local horse shows when Sarah and Alex travel across the country for competitions.
Sales is another piece of the business; although not the biggest piece, it is one that is close to Sarah's heart. She likes to stay connected to training young horses and brings in several a year to train and sell.
"Even though I started the business for the love of horses, the people are what make it happen," Sarah explained. "It has to be a customer service type of business. I have tried to combine my love of horses and taking care of them with servicing people well."
Sarah has been able to live out her life's passion through Punchestown. It hasn't always been easy, but it's always been worth it.
"Even when it's not going OK, it is important not to give up," Sarah said. "It took a long time to build the operation to what it is today; it was long and hard, but it is important to stick with it."
« See all News