Farm Credit EXPRESS Dealer Spotlight - Montgomery Tractor Sales Inc.
Montgomery Tractor Sales was founded in 1952 by William Stone, who owned the business until 1975, at which time he sold it to Johnny Cline and Charles Setters. 
In March of 1995 Mr. Setters sold his half of Montgomery Tractor to Phillip and Randy Cline (sons of Johnny Cline). In 2010, Johnny Cline also sold his remaining half to Phillip and Randy, who are the now the current owners.
The Cline brothers have been in the farm equipment business for over 80 years combined. Montgomery Tractor Sales has continued to experience growth, with the opening of a second location in Flemingsburg, KY in 2016.
Our Mount Sterling location offers New Holland, Massey Ferguson, Woods, Ferris mowers, Toro mowers, Bad Boy mowers and Stihl outdoor power equipment. Our Flemingsburg location offers Kubota, Massey Ferguson, Landpride, Ferris mowers, Hustler mowers and Echo outdoor power equipment. With all the brands and services we have to offer, we can meet all of your equipment needs.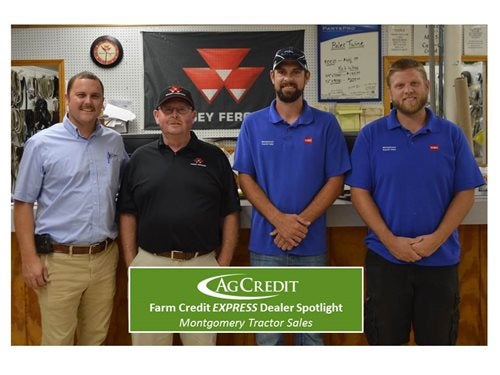 Pictured Above: Tom Zack Evans (Ag Credit) with Phillip Cline, Tyler Johnson and Derek Cline. 
Montgomery Tractor Sales Contact Information: 
1501 Winchester Road 
Mount Sterling, KY 40353
859-498-0342
https://www.montgomerytractorsales.com/
Central Kentucky Ag Credit partners with several participating equipment dealerships to provide you with flexible terms, competitive rates and the convenience you're looking for when financing your new or used equipment purchase. Ask your local equipment dealer about EXPRESS financing. EXPRESS loans are still served by local Ag Credit staff and also receive patronage!
« See all News