Farm Credit EXPRESS Dealer Spotlight - Haydon Equipment Inc.
Haydon Equipment is located in Cynthiana, Kentucky and has offered top of the line tractor and mowing equipment since 1954.
Haydon Equipment has been a Kubota dealer since 1982 and offers most Kubota product lines. They offer sales, parts and service for Kubota tractors, mowing equipment and utility vehicles all at the Cynthiana location. 
The business first started with Joe's father in 1954. Two generations have worked at the dealership over the years. Today, Joe and his wife, Linda, operate the business. 
Haydon Equipment, Inc. Contact Information: 
40 KY HWY 392 
Cynthiana, KY 41031
859-234-4261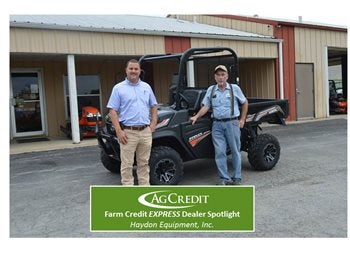 Central Kentucky Ag Credit partners with several participating equipment dealerships to provide you with flexible terms, competitive rates and the convenience you're looking for when financing your new or used equipment purchase. Ask your local equipment dealer about EXPRESS financing. EXPRESS loans are still served by local Ag Credit staff and also receive patronage!
Business Information Obtained from:http://haydonequipment.com/
« See all News