Farm Credit EXPRESS Dealer Spotlight - Central Equipment
Central Equipment is a family owned and operated business located in Lexington, Kentucky. Harold Huber started his career in farm equipment in 1962 with a Ford dealership in Shelbyville, KY. The business primarily catered to dairy and beef cattle farmers. A decade later the Hubers moved to Lexington to open Central Equipment.
Central Kentucky's farm and turf equipment dealership moved to its current site in 1998. The relocation to their 4.1-acre lot on Red Mile Road nearly doubled the company's amount of space. Their new 56,000 sq. ft. building features a 10,000 sq. ft. showroom and boasts a parts department more than twice the capacity of the previous one. The areas of the service department and the warehouse have increase by 30% each. Central Equipment's inventory includes lawn, farm and power equipment for the residential homeowner and large property owner as well as the commercial customer. And with over 300 horse farms in Fayette and surrounding counties, life at Central Equipment includes a substantial amount of agricultural business for our dealership due to one fact alone — Lexington is the Horse Capital of the World.
Central Equipment specializes in mowers, tractors and equipment from John Deere, eXmark, Ferris, Kubota, Stihl, Woods, Land Price, Honda power equipment, Boss Snowplows and more.
Central Equipment contact information:
791 Red Mile Road Lexington, KY 40504
859-253-2611
https://www.centralequipment.com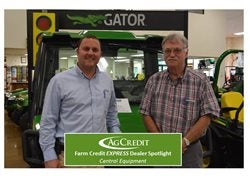 Central Kentucky Ag Credit partners with several participating equipment dealerships to provide you with flexible terms, competitive rates and the convenience you're looking for when financing your new or used equipment purchase. Ask your local equipment dealer about EXPRESS financing. EXPRESS loans are still served by local Ag Credit staff and also receive patronage!
Business information obtained from https://www.centralequipment.com/
« See all News