Ag Credit and Black Soil KY Unveil Demonstration Kitchen in Lexington's Greyline Station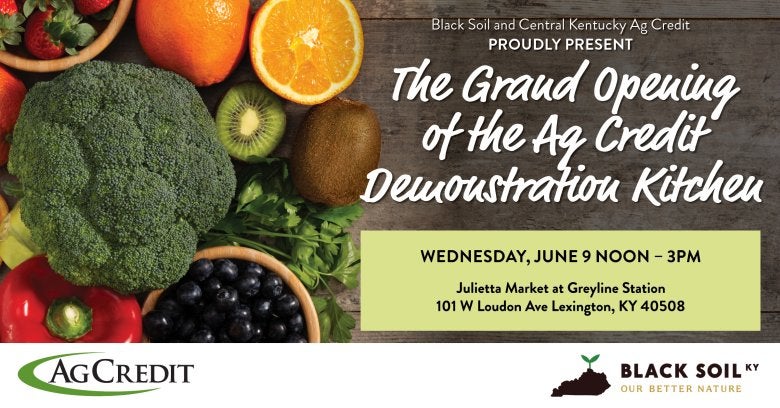 Central Kentucky Ag Credit has partnered with Black Soil KY to unveil the Ag Credit Food Demonstration Kitchen, featuring delicious entrees with fresh ingredients grown by the state's black farmers. The grand opening of the demonstration kitchen will be on Wednesday, June 9 from Noon – 3PM. 
Located at the Julietta Market in Lexington's trendy Greyline Station, the kitchen showcases dishes that include locally produced meat, produce and other food products covered under the Supplemental Nutrition Assistance Program (SNAP). Featured instructors are farmers, other ag producers and chefs affiliated with Black Soil KY who share their techniques, provide recipes and offer samples to audience members.
Black Soil KY was launched in 2017 by Ashley Smith and Trevor Claiborn to help expand market share for black farmers by connecting them to loan and grant programs, offering business advice and hosting events that promote their operations. Throughout the year, the agritourism organization sponsors or conducts workshops, farm tours and farm-to-table dinners to help educate Kentuckians about where their food comes from and why buying local is good for both farmers and consumers.
"The Ag Credit Demonstration Kitchen and partnership with Black Soil is a great example of our mission - to serve farmers and rural residents in Central Kentucky," said Central Kentucky Ag Credit President and CEO, Jim Caldwell. "We are delighted to partner with Black Soil and provide a kitchen to serve as an educational and promotional venue for these local products."

"Black Soil KY is honored to partner with Central Kentucky Ag Credit in expanding food access and education to the local community," said Ashley Smith, Black Soil KY COO. "Through this collaboration, we are striving for a better and brighter future anchored in the values and traditions of Kentucky farming."
Central Kentucky Ag Credit is a financial cooperative that is member-owned and serves 17 counties in the Bluegrass Region. The financial cooperative has seven offices in the region with loans exceeding $600 million.
Founded in 2017, Black Soil KY fuels rural leadership development and entrepreneurship through intentional economic investment into over 60 Kentucky-based Black-owned farm, culinary and food entrepreneurs and artisans. An award-winning and nationally recognized agribusiness, Black Soil KY presents programming dedicated to education, economic development and empowerment. For more information, visit www.blacksoilky.com.
 
« See all News